Snails in the Bordeaux style
"Les Cagouilles"
The story
Our ancestors of the Mesolithic era already appreciated the snail! Then the Greeks and Romans, who were fond of it, passed on various ways of accommodating it.
In the Middle Ages, the snail frequented the most noble tables and, in the Renaissance, the cooks of Francis I and Henry II raised it to royal rank!

Until the First World War, the people of Bordeaux, in droves, went to the suburbs, to Caudéran, to the "Cagouillards", on Ash Wednesday, to finish their Carnival and enjoy snails.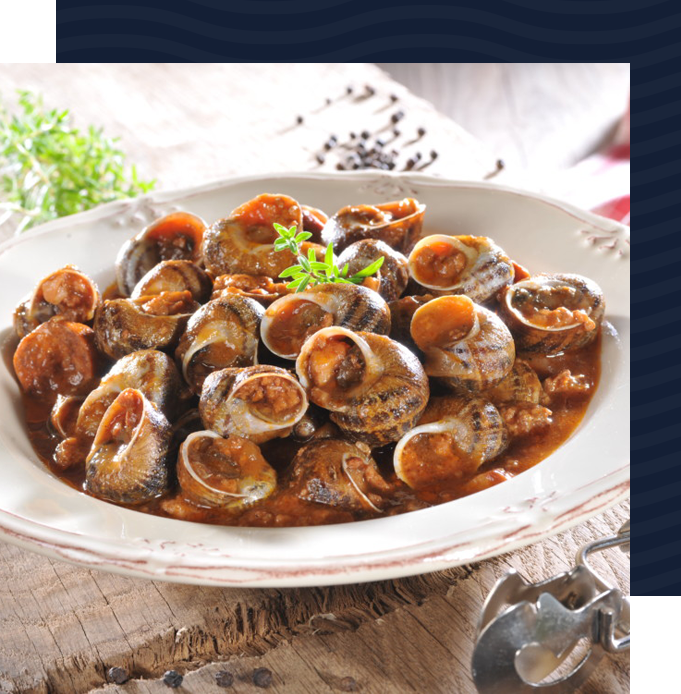 The Product
Made from a farm in the southwest of France, the Bordelaise des conserves Garde snails are prepared in an artisanal way, without additives.
Accompanied by a succulent tomato sauce and sausage meat… they will delight your taste buds.

Preparation Tips: Deliciously cooked, simply reheat in a saucepan over low heat for a few minutes without reducing this wonderful sauce.
DLC: 3 years
Name: Bordeaux-style snails.
Composition: Snails, sunflower oil, onions, tomato paste, water, pork sausage meat, pork chorizo, pork bacon, pepper, salt.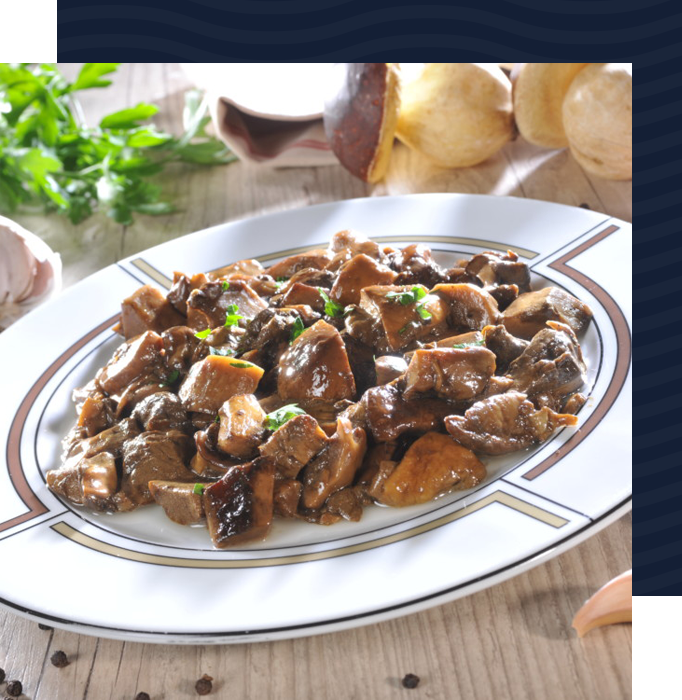 The ceps
The story

Noble among the nobles, the Cèpe is very popular because it is a first choice edible. Cep is a tube mushroom from mixed forests.
It develops in association with beech, spruce and especially oak.
If the season is favourable, a first outbreak of this species may appear in June, but autumn remains its best period.
It can be found on both siliceous and calcareous soils heavily covered with humus. It is a mycorrhizal fungus and, if it comes alone, it is not uncommon to find neighbours nearby.
The product
Harvested in the forests of southwestern France and prepared in an artisanal way, the ceps cooked by Les Conserves Garde will meet all taste requirements.
Find all the flavours and aromas of the undergrowth to decorate a dish or prepare a festive meal.
Our ceps are picked and cooked in France according to a traditional recipe that preserves their organoleptic qualities and their holding.
Preparation tips:
The ceps cooked from the Conserves Garde, once drained and sautéed in a pan, will go well with meat, fish or simply omelettes, with a little garlic and parsley.
DLC:3 years
Name: Ceps cooked in the Bordeaux style.
Composition: porcini mushrooms – France- (boletus edulis or aereus), legs and pieces or heads of porcini mushrooms, sunflower oil, salt, pepper.