The story
The lamprey is a marine vertebrate whose morphology is reminiscent of the eel. An anadromous species, it swims up the river where it was born to breed from January to April. A luxury dish, the lamprey is a bit like the Madeleine de Proust of the Bordeaux region.
The product
Lamprey à la Bordelaise des conserves Garde is made with lamprey caught from February to the end of April, when it is perfectly ripe for growth, guaranteeing a gastronomic dish of excellence.
Preparation with leeks and red wine.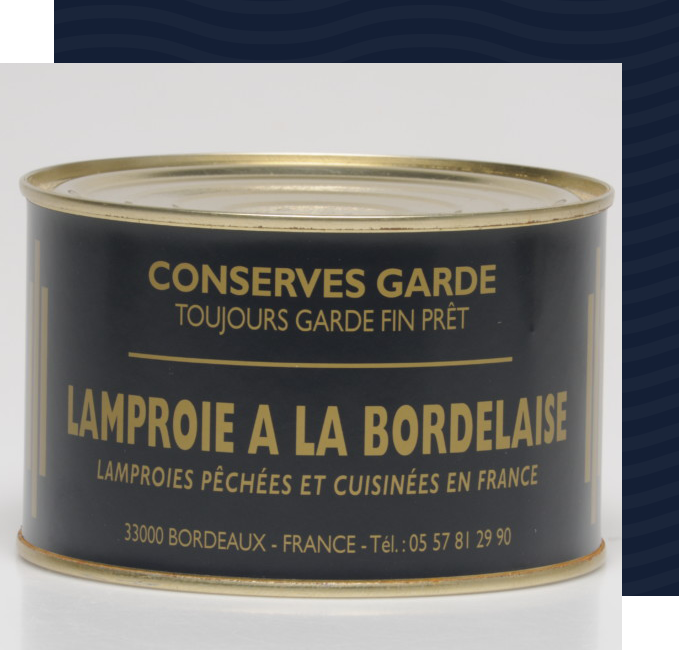 The lamprey with a Bordeaux sauce is admirably suited for canning. Many even prefer it to a freshly cooked lamprey and the boxes improve over the years. We wanted to develop a product with a high level of finesse, which will delight the most demanding palates.
Preparation tips:
Open the can and let it rest for about 15 minutes, then gently pour the contents into a saucepan (preferably stainless steel). Heat over low heat and uncovered for about 20 minutes to reduce the sauce a little.
DLC: 3 years.
Name: Bordeaux Lamprey.
Composition: Lamprey 42% ,leeks, red wine Onions, starch, Bayonne ham, shallots, sugar, salt, pepper, spices.